What are our organisms made of?
Fundamentally, our organism and the organism of our companion animals consist of carbon (C), oxygen (O), hydrogen (H), nitrogen (N), calcium (Ca) and phosphor (P) Potassium (K), sulfur (S), chlorine (Cl), sodium (Na) and magnesium (Mg). All other elements occur as minor traces. The proportion by weight of carbon in the organism is around 20 percent.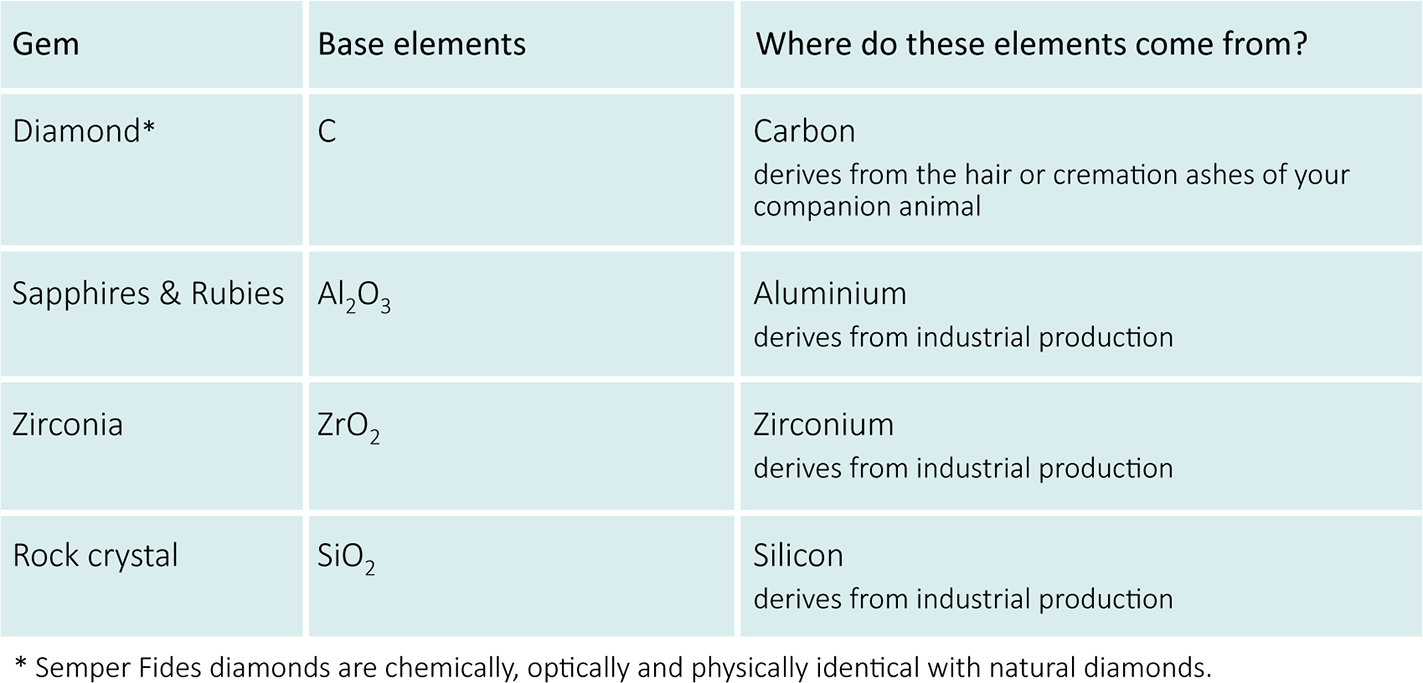 Which elements do gems consist of? And where do the elements of man-made gemstones come from?
PUREdiamond – Memory Diamond
Your personal diamond is cultivated solely out of the carbon extracted from the handed over ashes, hair, feathers of your companion animal.
In order to preserve the uniqueness of your diamond, we do not add carbon from other sources.
For your PUREdiamond we need at least 5 grams of coat respectively plumage or 300 grams of cremation ashes (equivalent to approximately 10-kilogram live weight). If you have not enough, there are different ways to realize the growth of your PUREdiamond:
The base of our transient life – carbon – turns into a diamond. Unique and eternal. Diamond is the only man-made gemstone deriving from endogenous organic elements.
PUREdiamond – Your unique personal diamond
PUREdiamond grows out of the personal carbon source handed over to Semper Fides. The characteristics of your personal diamond – i. e. clarity, proportion and your desired weight – are determined during the individual growth phase.
The unique diamond color of the companion animal's ash, hair or feathers, depends on the specific diamond growth process. You decide the base color, however the sparkles of your personal PUREdiamond is determined by the individual growth process.
The colorization of the diamond is achieved by the inclusion of a few individual elements, such as nitrogen or boron, in the diamond crystal lattice structure. The difference in the inclusion of a few particles (measured in ppm: parts per million) leads to large differences in the color's intensity.
The difference of a few ppm Boron in the lattice structure of your personal PUREdiamonds leads to significant differences in the intensity of the color. A few of ppm Boron are the reason why your diamond sparkles like a blue sky or a dark steel blue.
We can produce the following basic colors: yellow, blue, white
Note: When the white PUREdiamond grows, slight color shades,lattice defects or inclusions may occur. Especially these events create something very special and unique.
The various processes that lead to the respective color are connected to different steps and costs for us. For further details please contact us.